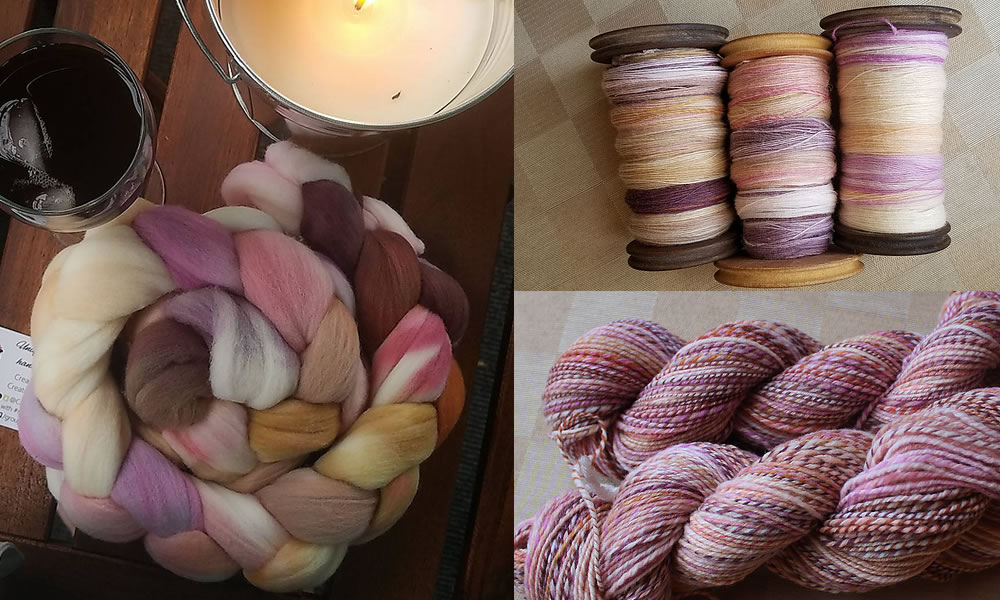 I always love it when people post up their projects in a collage, showing how their fiber came, how it spun, and then how it plied. I love seeing the change, and how something that might not be colors you love or expect ends up into this gorgeous yarn. My favorite scarf, to this day, is made out of some fiber I picked up at a festival that was busy and overly colorful and I wasn't at all sure I would truly love it until I finished spinning it and all those colors blended and melded together to make the most gorgeous yarn I've ever made.
This fiber is Tapestry Roses, from Created by Elsie B. I found her on Instagram and fell in love with her color choices. This colorway in particular I actually named, because she wasn't sure what to call it and a bunch of us threw out suggestions. Mine stuck, and I felt obligated to order it. I'm so glad I did – her fiber is WONDERFUL. It spins beautifully, isn't smushed or felted together anywhere, and the colors didn't bleed when I washed the finished yarn, either. Since starting this yarn back in August I've ordered more fiber from her and will probably order more (even though I don't at all have the time right now to spin through it lol).
I ended up with about 384 yards of 3ply, with a large chunk left of single on the bobbin to spin into a 2ply. Might have to come up with something that uses both yarn textures.