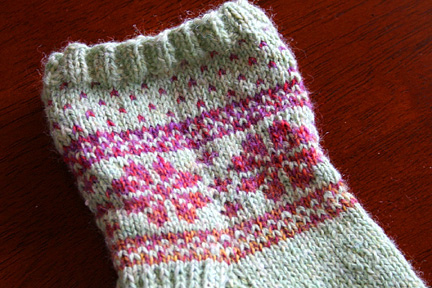 The sock is easy enough – I knit it top-down, but it could be knit toe-up just as well. Whatever method you prefer! The chart is over 16 stitches, so you could easily do it over 64 or 72 80 stitches (it was pointed out my math was wrong and to do 72 stitches you would have half a flower – my apologies on this!). Just make sure you knit loose enough that you can get the sock on your foot! I have small ankles so I did 64 and it seemed fine as long as I knit it loosely.
On with the pattern…
Yarn used: Kraemer Yarns Saucon Sock in Lime, and JL Yarn Vinca in Color #10
Needles: A set of 5 size 1 DPNS
Cast on 64 stitches in your main color
K2 P2 ribbing for 6 rows, and then begin chart and knit through. Make sure you're knitting loose enough so you can get it on!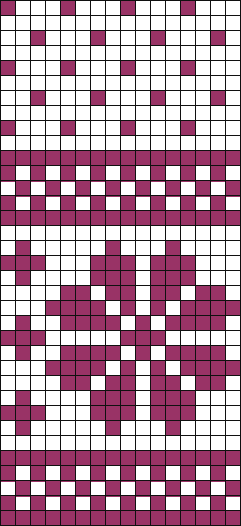 If knitting top down, then you'll start at the top portion and work your way down the chart (or just rotate it to read as you would a normal chart). If you're knitting toe up, then just leave it as it and knit away!
After the last row of the chart, knit one row in the main color. Knit next 48 stitches in main color (16 short of a full round).
On the next 32 stitches (16 of current round, 16 of new round):
Row 1 – Slip one and knit one to begin heel and turn.
Row 2 – Slip one, purl across.
Repeat the slip 1 knit 1 and the purl back for a total of 32 times, ending with a wrong side row. Knit one row plain across and then turn.
Heel turn:
Purl 2 beyond center (18 stitches if you originally cast on 64 sts), p2tog, p1, turn.
Slip 1, knit 5, k2tog, k1, turn.
Slip 1, purl to one stitch before gap, p2tog, p1, turn.
Slip one, knit to one stitch before gap, k2tog, k1, turn.
Continue until all stitches are worked and you have 18 stitches left.
Gusset:
Pick up 18 stitches along first side, knit across instep, and pick up 18 more on 2nd side of guesset.
Knit one round around. On next round, knit to 3 stitches before instep, k2tog, k1, knit across instep stitches, k1, ssk, knit rest of stitches. Continue alternating rounds of straight knitting and decreasing until you end up with 64 stitches again.
Knit around and around and around and around until you reach 2 inches less than your foot length.
Toe:
Round 1 –
Needle 1 –  knit to last 3 stitches, k2tog, knit 1
Needle 2 – knit 1, ssk, knit to end of needle
Needle 3 –   knit to last 3 stitches, k2tog, knit 1
Needle 4 – knit 1, ssk, knit to end of needle
Round 2 – Knit around
Repeat until you get down to 24 stitches. Transfer onto 2 needles and kitchener together and weave in ends and you're done!
If you have any questions feel free to contact me and ask! I'm not a pro at pattern writing so I'm sure there are some mistakes or some unclear directions.