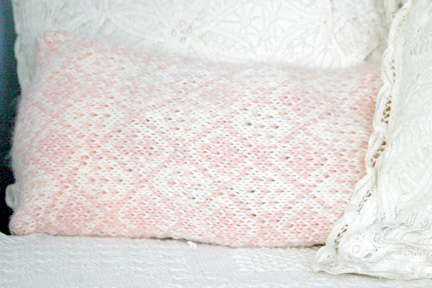 What you'll need:
Two colors of yarn of a similar weight. I used Baby Bee Sweet Delight for the off white, and Paton's Lacette double-stranded together since it's a fingering weight yarn and it worked well.

Needles the proper size for your yarn. I used size 5, but I probably could have gone up a size or two without too much trouble but I like the tight fabric the 5 created.

Blunt needle for weaving in ends
What to do:
The pattern is over 12 stitches and 12 rows, so decide on how many repeats you want. Obviously different yarn and needles will give you a bigger or smaller size so gauge swatch if you need to see how big 12 stitches by 12 rows is. Take the number of repeats you want and multiply it by 12 and then add 2 to that (Mine was 4 x 12 + 2 = 50).

Cast on that number of stitches with your main color (whatever you want as the 'background' on the pattern), and knit 2 rows, slipping the first stitch of every row. Then start the pattern (odd rows are knit, even rows are purled), knitting from the bottom of the chart up, and reading right to left on odd rows and left to right on even rows and continuing to slip the first stitch of each row. The pink X means that you knit (or purl, depending on the side you're on) in your contrasting color.

Repeat the pattern as many times as needed to get the size you want, and when you are ready to finish knit 2 rows of the main color again for an edge and then bind off.

Finishing for the back of the pillow is entirely up to you. I sewed mine to some matching plain cotton fabric because I got too lazy to knit a plain off white back for the pillow – but if you want an entirely knit up pillow then feel free to cast on the same amount of stitches as you did for the front and knit enough for the back and then seam it all together and stuff it and enjoy!
Pattern Chart: (Click to open and download)