I meant to post up weekly about my Yellow Bird Food Shed box but… oops. We ate more salads out of box 2, and if I'm being honest box 3 basically went… ignored. Today being Tuesday, I have yet to even dig in to box 4. We've been awful at eating at home because of life and stress. Though we've also been awful at eating out… honestly, most nights Declan and I more snack than eat real meals.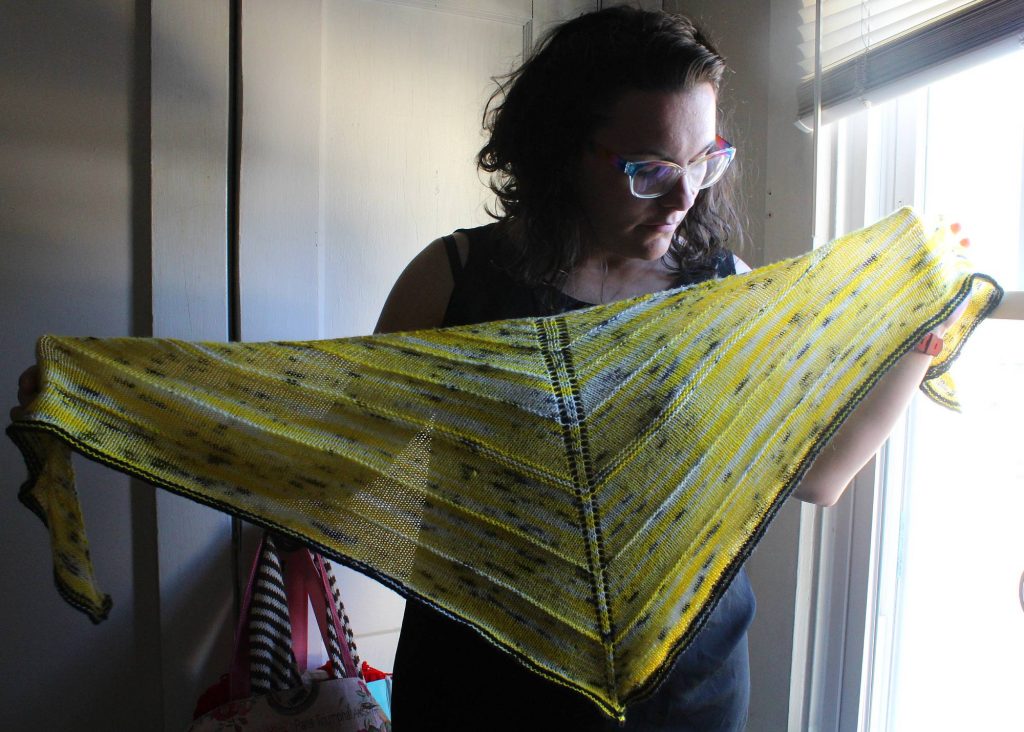 I finished a thing. A "Sunlight for Sad People" shawl out of some yarn I bought back in February that I meant to turn into a scarf to wear to the cold Columbus Crew spring games. I cast on for something almost immediately after buying it and then screwed it up and it became a whole mess, so I ripped it all out and started fresh. I like this one much better. I decided to add some black to the edge, which I think ends the shawl nicely. I also did increases on the wrong side, as well, to make the ends longer for tying, as I hate how short they can be on triangle shawls. I'd almost say it's too warm now to wear it, but temps this week have been cool for June so who knows – might get to use it while I hang out on the porch with a drink after the kiddo goes to bed.
Things are quiet around here, otherwise. I'm feeling a bit… panicked about not having as many things done as I had hoped with not having class take up all my time and energy. I mean, yes, this is only June 11th. But there's 76 days until I start up class again. Yes, I'm ridiculous and have a countdown. Yes, it is making me panic more. I feel like in the month or so that I've not been tied to my desk for homework I should have wayyyyy more done. I haven't canned a single jar of jam yet, nor any macarons or any other delicious baked good. In my mind, I thought I'd get all of this domestic stuff done so I could go into the semester in August feeling like I made the most of my free time. Same goes for my sewing – I have a Wiksten tank lingering on the dress form, several different fabrics meant for dresses and skirts and tanks that I have yet to even cut into. And my knitting has been pretty ADD as I jump from socks to cardigan to shawl and then spend stupid amounts of time looking at patterns and projects that I'll probably not get to. Also, books. I had a list of books I wanted to read this summer. Probably isn't going to happen anytime soon, unless I magically get a kid-free evening to really sit and immerse myself in something without interruption.
I HAVE been better on my whole self-care routine that I mentioned back around Mother's Day. Not great, but better. I went to the gym 2 weeks in a row. Nevermind that I didn't go today and will probably not go Thursday because of how my schedule is this week. But progress, right? And I've been eating better. I also started on working on some other misc things around the house – mostly working on letting go of old projects that I have no desire to revisit/finish, letting go of some sentimental clutter that I've held on to because of feeling obligated to and not because I actually wanted to, etc.