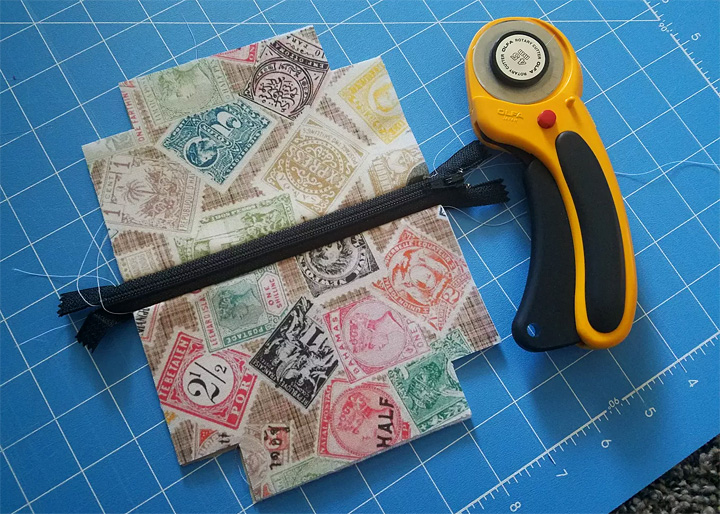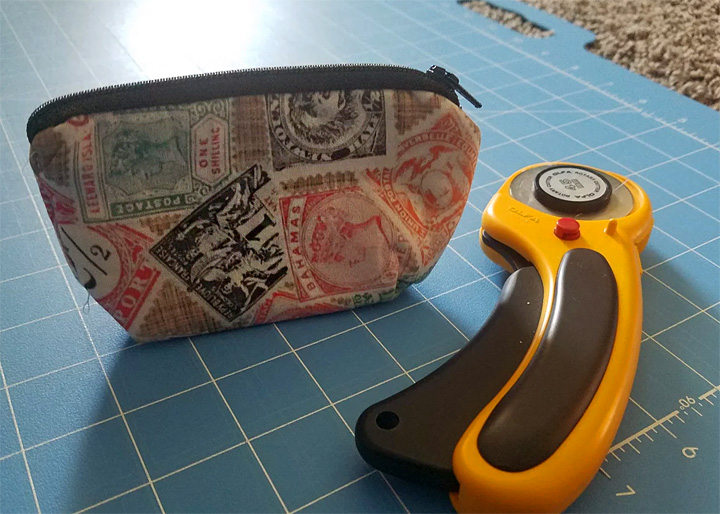 For Christmas I made my knitting friends little knitting bags. I made enough to basically have the construction concept memorized, so when I decided to make a smaller version for a Ravelry swap I'm in I basically winged it. 4″x6″ pieces of fabric and fusible fleece, a zipper, notching 1″ squares out of the corners… piece of cake, right? I mean, I've made at least 5 of these already so sizing the pattern down is no big deal.
Except it WAS a big deal.
Let me tell you: making this bag was a little like childbirth. In the beginning it was fun and exciting. "Little itsy bitsy bag for postage is going to be SO CUTE!" I told myself. The pieces went together so smoothly, even! Zippers = fun! And then… then it came time to turn it all right side out. I left my hole too small, and I knew it but thought I could make it work anyway. So I pushed and pulled and tugged and pushed some more. I knew it was too small a hole, but denial kicked in and I absolutely thought I could push it through. And then I had to face reality: an episiotomy of sorts was in order. I needed to cut into the bag to fix it. Ugh. The end result is stitches that make the overall product marred permanently, but you don't actually care because you're just happy it's finally over and you have your baby to cuddle bag.
Maybe next time I should just leave off the fusible fleece so it's a bit less bulky. If there ever is a next time for a bag this tiny.
Tomorrow I'll post up my yarn dye results – it's all still drying and making the home office a bit… vinegary.